Welcome to the 2019 edition of the 'TistheSimpsons Christmas light show
The light show contains over 36,000 lights set to some of the best music of the season and controlled by 170 channels of LOR magic, 12 color ribbons, and pixel light window frames totaling over 1200 channels of custom programmed, computer controlled animation.

***Important Schedule Announcement***
Out of concern for our neighbors and our light show fans, the First Light Celebration will not take place this year. We want to everyone to have a safe and fun holiday season. Thank you for your understanding!
***Please be nice to our neighbors; don't block their driveways and no loud music. Thank you!!! ****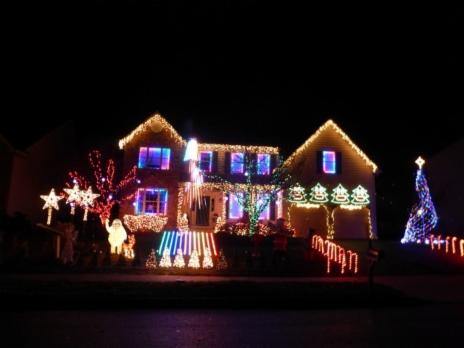 502 Timber Court, Perkasie, PA 18944


***2019 Playlist***



Light of Christmas

-Owl City/TobyMac




12 Days of Christmas

-Straight No Chaser




Hippo For Christmas

2019 Light Show Schedule



Runs nightly 11/30/2019 - 1/1/2020


(except for Christmas Day night)



6pm-10pm
Christmas Eve 5:30pm-11pm

Note: In case of inclement weather please check
our Facebook page. Show status updates are
posted there.



*** Tune to 90.7***





The show is free. It is our gift


to the community. If you would like to
make a donation we encourage
you to give to the charity of your choosing.




***Show Times***

6-10 pm



(runs continuously)



No shows on:

Christmas Day



YouTube/Vimeo Links

2019 Videos
(coming soon)

2018 Videos

Joy to the World-GoFish
Run, Run Rudolph - Phineas 'n Ferb
Nutrocker 2016 w/Video
Minion Disclaimer

-------------------------------------------



Click on the "Previous Years" tab on the left to

see videos from 2007-2015